After the 2003 movie 'Daredevil' starring Ben Affleck in the titular role flopped, wasn't very good, nor presented a good portrayal of Daredevil, I wasn't expecting very much from this new series even though I was excited from the looks of the trailer and the fact the DD was finally in the Marvel Cinematic Universe.  Boy, was I wrong!  'Daredevil' was probably the best TV show I have ever seen and I would go as far to say it was almost, if not, better than 'Agents of S.H.I.E.L.D.' and I love that show.  The fight scenes were amazing, the characters and character development were great, and the plot was one of the most suspenseful and intriguing that I have seen as well.  The show finally got the character of Daredevil perfect as well as his supporting characters and villains who were portrayed magnificently.  All these factors combined to make 'Daredevil' a top notch show, and a great entry into the MCU, that gave people a lot to love about it and not much to dislike.
Warning: If You Have Not Already Watched Season 1 Nor Know Anything Of The Plot, Do Not Continue Reading!  Major Spoilers Ahead!
What I didn't like about 'Daredevil' Season 1:
Ben Urich's Death
He might not have been as cool as Daredevil, he might not have been as funny as Foggy Nelson, he was just good old Ben Urich and that was good enough.  Unlike the movie 'Daredevil', this new TV show really portrayed correctly and fleshed out the character of Ben Urich.  It came as now surprise as virtually every character introduced into the Marvel Cinematic Universe has been adapted magnificently from their respective comic book counter-part.  The show established Ben Urich as the established, grounded reporter that was an amazing investigative reporter, but had the judgement to know when or when not to publish a story, and that always worked closely with Foggy Nelson and Karen Page, that he was in the comics.  That is why after the show portrayed such a lovable character, it was tough to deal with his shocking death at the hands of Wilson Fisk.  Ben Urich added the detective aspect to the show so his demise definitely is a low and sad spot of the season and his absence in season 2 will definitely be noticed and felt.
Over-The-Top Violence
While I loved the fight scenes in this TV show and have them listed below as one of the things I liked about this series, I didn't like the over-the-top violence that often accompanied these scenes.  While excessive violence and gory images didn't show up too often, only in about three episodes, it was still enough to detract from the episodes these incidents occurred in.  It didn't add anything to the show and if anything made some parts of it much less enjoyable.  It has been hinted at that the violence will be toned down for season 2 which is a good thing because this is definitely a major thing on which the show could improve, and it will make the show even more enjoyable with the absence of this aspect if the show.
What I Did Like About 'Daredevil' Season 1:
The Fight Scenes
One the highlights of the 'Daredevil' series was how good the fight scenes were.  Like the fight scene from episode 2 that I posted above, all the fight scenes in the series were grounded, exciting, and fast-paced.  The way they filmed each fight scene made them very different and the way Daredevil fought and each if these fights played out made then for the most part very realistic, whereas most fight scenes in movies today tend to be mostly unrealistic.  These fight scenes were also different because unlike most superheroes in the MCU, Daredevil doesn't have super strength.  Hence, it was different and fun to watch a superhero like Daredevil have to use real fighting skills in order to take down his foes instead of being able to rely on brute strength like Thor or Spider-Man can.  The action sequences in the show 'Daredevil' were exciting and intense, realistic and definitely a high spot if season 1.
Charlie Cox As Matt Murdock/Daredevil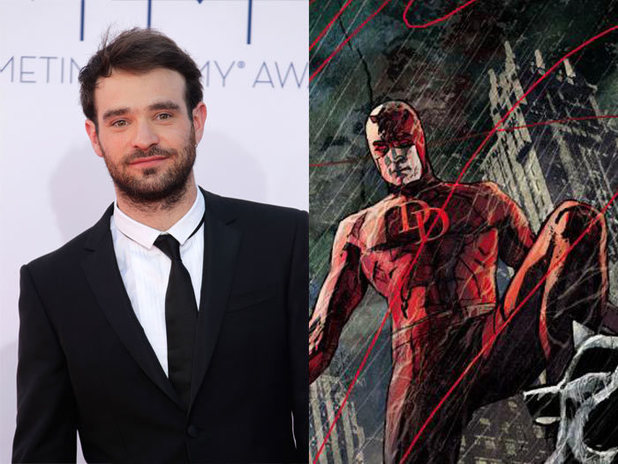 To put it simply, Charlie Cox is the definitive Daredevil and a world better in the role than Ben Affleck was.  Ben Affleck was perfect in the role as far as looks are concerned, but absolutely failed to captured Daredevil's personality.  Charlie Cox has mirrored Daredevil's looks and persona from the comics and has expertly brought this character to life.  He plays Matt Murdock/Daredevil in his true form: a serious and occasionally dry-humored lawyer by day and a grim but sarcastic vigilante by night.  Daredevil is always thought of as really grim and serious all the time so I liked how Charlie Cox showed both sides of the character.   Charlie Cox is a great pick for Daredevil, and without such a good pick to play DD, the show would be a lot less cool, if the titular hero wasn't portrayed as well as he is.
The Supporting Cast
¿El grande avocados?  All the supporting characters in 'Daredevil' are great, enjoyable, and they don't get better than Foggy Nelson and is hilarious one-liners, like the one at the start of this paragraph.  Each actor played and portrayed their respective characters superbly in comparison with their comic book counter-parts.  Elden Henson, while actually not looking quite that much like Foggy Nelson does in the comics as Jon Favreau did in the 2003 'Daredevil' movie, is perfect in the role of Foggy as far as personality is concerned.  The show finally gets Foggy Nelson right, with Henson portraying him as a character that is funny and carefree on the outside, but on the inside is somewhat serious and sometimes a worrywart.  The rest of the supporting cast, along with Ben Urich whom I spoke about above, was also great, with Deborah Ann Woll and Rosario Dawson also doing well with their respective roles of Karen Page and Claire Temple.  Both fit their roles beautifully, both looking the parts, and the show and these actresses getting their respective characters right.  The show portrayed Karen Page as Murdock and Nelson's friend and secretary, but one who always was in the middle of them and Ben Urich's latest adventures; Claire Temple was shown as a serious yet courageous Night Nurse who frequently is just a phone call away from helping out Hell's Kitchen's superheroes.  Daredevil has some great supporting characters, so I'm glad all their respective actors and the show itself portrayed them as they are in the comics, because it made the show more enjoyable to have such a cool, likeable supporting cast of characters, and being set in the Marvel Cinematic Universe, they are going to be around for awhile so I'm glad 'Daredevil' got its characters correct.
Vincent D'Onofrio As Wilson Fisk/Kingpin Vincent D'Onofrio was without a doubt the definitive Wilson Fisk.  Sure, Michael Clarke Duncan did a commendable job with the Kingpin in 'Daredevil' in 2003, he just didn't really properly and correctly portray Fisk the way D'Onofrio does in the new Marvel Cinematic Universe television series.  While Duncan portrayed Fisk as less threatening, actually a little comical and the movie didn't get his story right, D'Onofrio portrayed the Kingpin as he really is, no humor, but serious and downright threatening and scary.  The show also got his story right of being a businessman that in reality is a big-time crime-lord, who stays more in the shadows as opposed to being very out in the spotlight, but despite being a big-time villain, has a girlfriend, Vanessa, whom he deeply cares for.  With the show once again doing a great portrayal of one of its characters and Vincent D'Onofrio being magnificent in his respective role as the Kingpin, through both personality and physical appearance, I was glad the show got the Marvel Cinematic Universe's portrayal of Wilson Fisk correct.
Other Villains
Besides the main villain the kingpin,  'daredevil' season 1 actually contained a wealth of other great villains.  James Wesley, Fisk's right-hand man, was not in the comics but original to the series.  He was a unique character to the series, being a 'high-class' criminal while the other villains in the show were  just your average criminal.  He also was an important character because he helped to develop Fisk's personality and character.  Leland owlsey was another great villain.  While not only being a good character to introduce to set up a possible owl storyline next season, Leland also was a funny guy.  Having a funny character such as him, villain as he might be, lightened the dark tone of the series in some spots.  Finally, along with Melvin Potter being a great set up for the Gladiator, the infamous organization the Hand and its leaders Nobu and Madame Gao also served as great villains.  The Hand served as a good evil organization for Daredevil combat, being comparable to HYDRA for the size of the threat it posed, and Nobu and Madame Gao served as realistic evil leaders of the organization and Nobu was proven to be an even cooler villain as a good fighter after his awesome fight with Daredevil.  While the Marvel Cinematic Universe is incredible at portraying superheroes, in general they have failed to get the villains correct, so it was a nice change for 'Daredevil' to go a good job with their villains.
Daredevil's Costumes
Due to the fact that Daredevil has several costumes throughout his career, I thought it was nice the series payed homage to this by changing his costume throughout the series.  While I wish they portrayed the yellow original costume, the series did a good job with daredevil's black costume from Frank Miller's 'Man Without Fear'.  Although at first look, I was doubtful, as the costume looked silly and not at all like Daredevil, but when I actually saw it on the screen, it actually was quite a great portrayal.  But what was even better was when Daredevil transitioned to his classic red suit.  The black suit was great but the classic one was needed to truly capture Daredevil.  Waiting to unveil the new suit until the season finale was a great choice as we got Matt to fight the kingpin in his first moments with his new suit.  With that classic red hue, horns and all, Daredevil's red costume is portrayed at its cinematic best in the new Marvel Cinematic Universe tv series.
Daredevil Vs. Kingpin
A Daredevil/kingpin showdown was bound to happen and it was phenomenal in the season finale.  We saw these two face off briefly in the ninth episode when Wilson Fisk confronted the heavily wounded Daredevil just after he had barely defeated the dangerous Nobu.  Fisk went on to mop the floor with Daredevil and pulverized him so bad he left him for dead.  After he was patched up by Claire Temple and feeling better, this is when he realized he needed a better costume since his black one offered no protection or padding.  He then tracked down Melvin Potter and made him design a suit fir him.  Enter one classic red suit and DD was ready to take on the Kingpin who was on the run from the FBI.  The ensuing fight had everything: the debut of Horn Head's famous billy clubs, daredevil beating up Kingpin, Kingpin beating Daredevil, and  Daredevil eventually winning.  Daredevil's agility, Kingpin's ferocity in battle because of his incredible strength (and D'Onofrio's stunning portrayal of him made him even more terrifying) and this battle being the climax to the season made this battle very memorable.
Honestly, 'Daredevil' season 1 was better than anyone could have predicted and of the best modern tv shows.  All the actors rocked their respective roles, the show got all its characters right from the aspect of their personality and backstory, the show was fast-paced, intriguing and exciting from the start, the season finale, and all the characters were compelling.  Season 2 could prove just as good with the Punisher and Elektra joining the show next year and the Gladiator and Bullseye also being possibles to turn up, and if everything else on the show is kept the same, it has the potential to be even better.  Along with the fact that Daredevil is one of my favorite superheroes, the series created a winning formula that I, and most other people, couldn't help loving.